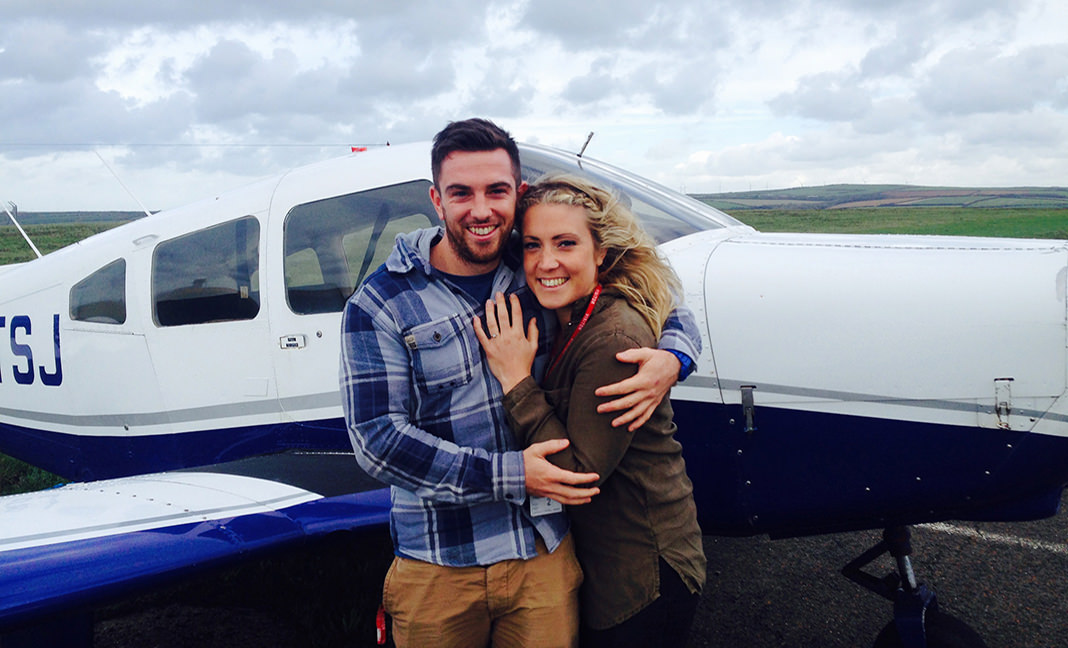 Testimonials
Scott Holmes, 22 November 2015 via Facebook

Great stuff!!! Nice office atmosphere, Zara was efficient and friendly. I have flown in several countries and, like most things, the instructor makes all the difference - we lucked out with Lothar who made my friends trial flight an experience to remember - he's itching to get back up there! Thank you Newquay flying club!
Anthony Mills, 8 November 2015 via Facebook

Many thanks for letting us fly with you today. The Mills family
Gemma Dearden Tight, 10 October 2015 via Facebook

Had the most amazing time. Thank you Flynqy
Kurt Richards, 25 July 2015 via Facebook

It's been a long time coming, but I've finally started my PPL training, and I couldn't be under better supervision. Great team, patient and knowledgeable throughout! Can't wait to continue next week!
James Wilby, 15 June 2015 via Facebook

Thank-you for the excellent, professional and very friendly welcome today when we stopped by to re-fuel. We'll be back again! G-OSKY
Nigel Rhind, 5 March 2015 via Facebook

Many thanks to Marshall and Zara for a great welcome. All at Newquay made us so welcome I would recommend anyone to visit. We will be back.
Justin Fryer, 23 November 2014 via Facebook

Hello. I flew into Newquay airport from Gloucester on Saturday 22nd November 2014 and we were handled by Flynqy. They were fantastic. Very friendly and efficient. They booked us a taxi into town as we arrived on the Apron. Helped us with booking out and checking weather for our return journey. Great service, 5 star. Thanks guys.
Kylie Ward, 31 August 2014 via Facebook

Thanks Marshall for taking my daughter, Libby Liyanin Ward up for her first experience flight. She had an amazing time and it has fed the fire of her career choice. If only we lived closer so she could make more use of the facilities!
Raymond Russell, 14 August 2014 via Facebook

Thank You for an amazing Birthday Flight!! Enjoyed every minute!!
Andy Hardy (G-ATYS), 27 May 2014 via Facebook

FlyNQY: great FBO, great service! Thanks guys
Janet Acres, 19 April 2014 via Facebook

Well overwhelmed by a brilliant fast turn around for fuel at Newquay thank you so much it was like a formula 1 pit stop, and to get my leading edge polished by Lothar,s bum was worthy of a photo but didn't get the camera out fast enough cheers guys from a grateful Gavnn and family xxx
Sarah Forbes, 13 October 2013 via Facebook

Thanks so much to Flynqy Pilot Training for Sarah's flight today, absolutely fantastic!
Carolinne T, 29 August 2015 via Trip Advisor

This was a surprise for a family member. We arrived at the airport and the instructor took the family member into a briefing room to explain what would happen when. Once in the plane the family member took control of the 30 mins flight, while being supervised. It was a great experience for all.
Mark W, 12 January 2015 via Trip Advisor

Friendly and professional: I decided to start flying last April and since then, have flown approximately 16 hours training with Flynqy. From the initial trial flight, it was clear that the flynqy team are highly skilled and professional. I was instantly 'sold' on the dream and have never looked back or considered changing to another flight training provider.

They are great at communication and keeping you in the picture and nothing is too much trouble. They are happy for you to spend as much time as you wish, using the the resources and picking their brains...they are all truly passionate about flying !

My flying instructor, Marshall, is highly experienced, unflappable, patient and an excellent teacher; the admin and friendly face of the office, Zara, is always on hand to offer advice and being a pilot, she is as passionate about flying as the instructors.

You also have the benefits of a seriously well equipped airport, often almost to yourself !

I can't recommend them highly enough and would not hesitate in recommending them...thinking about learning to fly or just want to see the magnificent Cornish coastline from the air....give these guys a call.
Joe S, 9 January 2015 via Trip Advisor

Amazing flights with top notch people!! When I decided that I wanted to learn how to fly, I did take it seriously as it's not a cheap endeavour. I tried a number of grass field flying clubs, they were good but a bit tired. I discovered FlyNqy maybe a year ago now and knew when I first met the team that this was the place for me! They have a structured approach to training both practically and theoretically, every member of the team has allot of knowledge which I was able to draw upon. Something that was important for me as well, was to actually learn to fly at a real airport with a real ATC and radar etc.... I was encouraged and trained very well. Since getting my pilot license with them, I return regularly as they are a great bunch of people and their aircraft are in top condition. Everyone should learn to fly with FlyNqy :-)
Jay Jerry, 9 January 2015 via Trip Advisor

We visited Newquay flying down from Blackpool, (3 aircraft). On arrival we were greeted with a warm smile by a very helpful lady . All the guys we met at Flynqy went out of their way to help us on arrival and again on departure a few days later. Overall it was a very positive experience and Flynqy are a very professional outfit and I'd recommend them; and of course flying over the great scenery nearby is good as well!
Leslie Tyson via Into the Blue

The pilot was brilliant, very helpful. Being able to pilot the plane myself was exhilarating.
Jo Cole via Into the Blue

I would have like to have been able to keep half of the blue invoice card that had my birthday message in it as a reminder of my magnificent flying experience. And yes I would and have been recommending this to everyone I know.
John Ridgway via Into the Blue

We had a super time and the able pilot ensured that the family were kept involved and shared in the experience.
Tracy Wilson, 29 April 2015 via Facebook

Outstanding flying experience with Marshall today which way exceeded our expectations - not that I had many as it was a 25th wedding anniversary surprise until half an hour before take off! Any nervousness that we had soon disappeared, we both took the controls over our stunningly beautiful county, and had a thoroughly great time - thank you Flynqy Pilot Training. Loved our certificates too!
Sarah Wahid, September 2014

Thankyou so much for today's introduction, it was brilliant! If anyone wants to learn to fly these guys are awesome - no matter how much of a chicken you are, they make you feel comfortable and confident! Thanks again! x
Katie Chapman-Hawkins, July 2015

Best thing I've done in a long long time!! Loved Lothar to bits he was very good whilst we flew to the Isles of Scilly
Sara Howley, August 2015

Awesome! A Birthday present for my husband to 'fly' an aeroplane down to St Michaels Mount and back again. Our Son was also going as a passenger. When we got there Lothar convinced me also to go up. After a briefing of what to do for my husband. Lothar let my husband take control. He told him " as long as I am confident you will not kill us, you can do everything". My husband took controls. Take off, flight and landing. An awesome experience for the passengers, let alone my husband 'piloting' the plane. We were blessed with beautiful weather. We are very appreciative to Lothar for making it such an awesome experience. Thank you so much.
Trishan, July 2015

One of the best moments ever! It was a surprise for my 30th birthday from my wife. I would say it was the best birthday gift ever. Having to take control and fly a plan was a one of a kind experience. Flight experience with Flynqy should be in the list of MUST DO activities once you are in Newquay, Cornewall. The warm welcome of the professional and friendly staff Zara Dinnacombe and specially the chief flying instructor Marshall Cligman is fantastic. Under Marshall's supervision it was a complete joyful ride. Must say Marshall is an absolute asset to the company and we would definitely recommend anyone to pay a visit to Flynqy because you would never regret it.