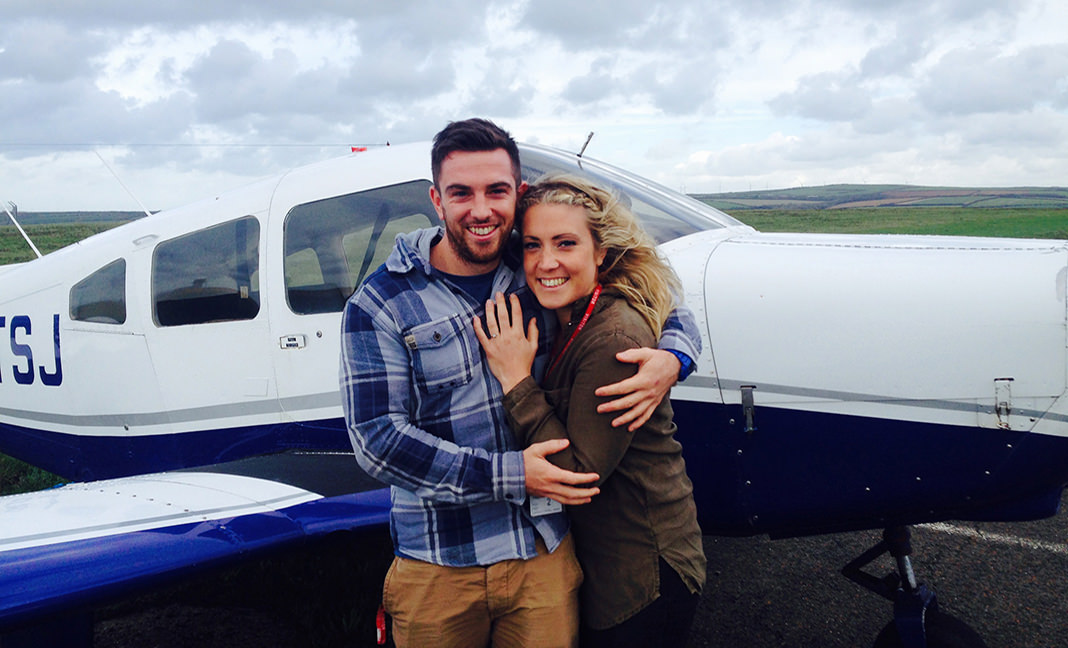 Testimonials
James. 11 July 2022. via Wingly

We flew with George in the Robin R3000. Glorious day, little bits of cloud but stunning views over the Cornish coastline. George was very welcoming and friendly, ensuring we saw all the sites from above. Brilliant trip, thank you
Malc. 10 July 2022. via Google

Took a flight with Flynqy this morning. It was an amazing experience, flying over my home county.Right from arrival, we were made to feel very welcome by the staff. My pilot/instructor for the flight was very friendly and made me feel relaxed as well as my family members that also joined me for the flight, whilst no doubt at all of his professionalism. Whether pursuing a pilot's license or taking a flying lesson experience, I highly recommend Flynqy for this. Many thanks to the staff at Flynqy for such an amazing experience.
Peter. 9 July 2022. via Wingly

What a fantastic experience, great communication between booking and arriving on the day, a great welcome and flying experience, thank you Marshall and Zara! See you again soon, Pete and Amanda
Kenneth. 3 July 2022. via Wingly

Absolutely brilliant treat highly recommend it looking forward to the next time. George was a brilliant pilot cannot fault the whole experience five star
Colin. 2 July 2022. via Wingly

All the crew at Newquay were extremely friendly very helpful and offered some great ideas for our flight. Matt, our pilot, was a star, he asked where we lived and then suggested we could fly over the village, and we jumped at the chance. Thank you all at Newquay for our wonderful experience one we will never forget, and we are now planning when we can repeat the day. Colin
Mark Stevens. July 2022. via Into The Blue

Fantastic experience, instructor George very knowledgeable and I had control for most of the flight. Would highly recommend and it is a great insight to how much training your pilot has done when you go on holiday!
David Hughes. June 2022. via Google

These people are just *great*. They are cheerful but highly professional, warm but very well organised, thoughtful, nice, accommodating, flexible and fun. One of the pilots even presented me with his Emergency Banana when I arrived feeling jittery and low on blood sugar, ensuring that I was in a fit condition to fly when we were ready to go, and if that is not the ultimate professional courtesy then I do not know what is. If you are looking to spend an hour doing something extraordinary, soaring pretty much wherever you want over the woods and coasts of Cornwall (or getting an aerial look at your own house!), then these are the people to talk to. And frankly, if I was staying in the UK to do pilot training then FlyNQY would be my only choice.
Mary. 29 May 2022. via Wingly

Excellent flight. Very friendly staff. It was everything I wanted and so much more. Cannot thank you enough. Mary
Jonathan Harbage. May 2022. via Google

I had a wonderful time flying up and down the north Cornwall coast. The weather was windy, but my instructor Marshall soon had me at ease, guiding me with the controls and pointing things out of interest.The team at the airport made my family feel very welcome especially with a good cup of tea to warm my wife up. We hope to be back again.Thank you
Liam. 27 April 2022. via Wingly

We flew with Flynqy and have to say that Zara and Marshall were excellent. Very friendly and knowledgeable. Would highly recommend to all. Thank you!!
Peter Edwards. January 2022. via Into The Blue

This flying experience was the best of the four I have completed to date over a number of years. The booking process was efficiently managed in a very friendly way. The pilot-trainer was really informative, relaxed and gave a sense of safety. Thoroughly enjoyable!
Jason Mcmillian. December 2021. via Google

The fly Newquay pilot training team are very welcoming.They honoured a flight training purchase due to covid had to be delayed for a long time. Nervously excited captain Marshall instructed my flight and with a dry sense of humour we took to the air .30 minutes literally flew by. A truly fantastic experience in a beautiful little 4 seater Robin R3000.I definitely will be taking to the skies in the near future.Go on treat yourself. Thank you, Team FlyNqy. 😊 Jason & Kate (Cornwall)
Robert O'Connor. 21st October 2021. Facebook

I had a brilliant day on Friday and the time flies by when you're up in the air. Lucy was great and was able to rearrange a later time due to an accident on the A30. Dave the pilot was superb and at no point did I feel nervous about the flight. Overall a brilliant experience, friendly staff and definitely a great time. Really looking forward to coming again.
Bob Moore. August 2021. via Into The Blue

Given a choice of routes I went for a fabulous flight from Newquay down the coast to St Ives Bay. Brilliant instructor pointed out every cove by name. Absolutely amazing!
Thomas Gibson. 2021. via Google

A brilliant experience that I highly recommend. I flew in the Robin with my fiancée in the back, and she enjoyed it just as much as I
Paul L. April 2021

The team were very welcoming and my instructor Marshall was amazing. I took a 50 minute flight along the Cornish coast from Torquay to Tintagel. The weather was sunny and visibility perfect. I took control for most of the flight and the experience was awesome. The team really care about your experience and I can't rate it highly enough.Thanks team! Awesome
Andy Howard. 2021. via Google

Great fun and knowledgeable team at Flynqy.
Adam Singer. 2021. via Google

Really can't recommend this place enough! It's such a friendly and customer Orientated business that it's no wonder they have a 5* review! Thank you again from all of us! 😊🤟
Toby L. August 2020. via Tripadvisor

A must do in Cornwall! We went for a fly over Newquay with Tyrone as our pilot and it was a wonderful experience. Tyrone was very calm and professional at explaining everything when taking over the controls and his good humour made for a great time. Definitely recommend If visiting Cornwall!
Agz. July 2020. via Tripadvisor

I was lucky enough to fly for the first time here during a "Flight Experience" session. It was amazing, the staff there were professional yet easy to talk to and made me feel at ease! My instructor Leon was brilliant. 100% recommend!!