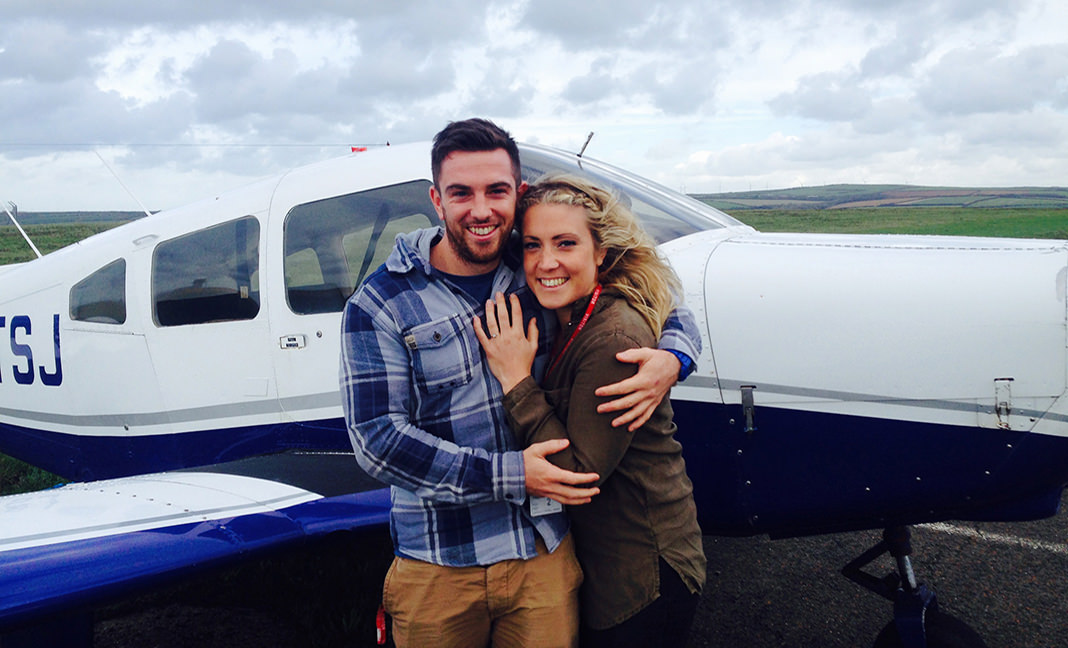 Testimonials
James Pyne. 19 July 2017 via Facebook

What an outstanding bunch of people! My thanks to Zara, George, Sam, Leon, Marshall and Lothar.

This is a lovely club and school. Popped down and tried their new Robin 3000....what a great aircraft. Also had top quality instructing from the patient Capt. Marshall Cligman and examining from Capt.Lothar Berger. I also was plied with copious amounts of tea and cake!!

Please pop by and visit, and go flying! You will not regret it with such a lovely bunch.
Cat Albegada. 26 April 2017. via Facebook

Fantastic experience! There was a bit of a mix up with the bookings (may have gone to the wrong airport!) but the staff were very friendly and happy to help, within 10 minutes we were in the air! Sorry for the mix up guys, but thank you for a lovely time!
Robert Watts. 6 April 2017 via Facebook

Had a fab time. Thank you so much for the experience it was great. Great staff, great experience and amazing weather. The lesson was bought for me in September, we phoned today to fit it in and there was no problem at all. In fact you upgraded my flight because the plane we originally booked was in Wales. This meant my wife and daughter were both able to enjoy the experience too. Thank you!
Giles Upward. 18 April 2017. via facebook

Thank you Leon for an excellent flying experience for our son, Curtis. He couldn't stop smiling afterwards. Zara and the team were very helpful and informative. Many thanks from the Upward tribe.
Richard Rutson. 3 May 2017. via facebook

Just had a great flight down west can not wait to do this again. A great experience
Philip Sinclair. 17 November 2016.via Facebook

Great team, great service, great times. Cannot rave enough about these guys, if you want to learn to fly or just have a taste this is the place to go. Perfect location with amazing views from takeoff to landing, good value.
Jon Turner. 10 April 2017. via facebook

A great experience with great people, I wouldn't hesitate to recommend.
Mike Quest. 16 July 2017. via Facebook

Really friendly staff, great aircraft and the best location!!
Tracy Gilmore. 22 July 2016. via Facebook

My husband booked us a flight yesterday for our 1st wedding Anniversary, we had a brilliant time, i had never been up in a plane before let alone take control for a short time Mervyn Hill the pilot was great . Showed us around the plane . A robin dr400 . Talked about how the plane flies and manouvers. Made me feel relaxed and more at ease allowing me to enjoy the flight. Great experience, would recommend it & hope to do it again sometime. Thanks Tracy & Dave.
Kate Stevens. 1 August 2016. via facebook

My son and I were passengers on my husband's flying experience yesterday. During a 40 minute flight we got to see pretty much the whole of Cornwall from above including our own house :-) Paul and Pilot Joel were so welcoming and great with our 9 year old. I would absolutely recommend this experience to anyone!
Helen Foster. 14 June 2017. via facebook

What a superb, magical experience. Many thanks!
Lisa Liles-was Ball. 7 July 2016. via facebook

Had an amazing time with my husband for our 5th wedding anniversary loved every minute of it our pilot Joel Bryant was absolutely fantastic my husband enjoyed being able to take control and do some flying would definitely love to do this again thanks again)
Paul Arnold. 8 April 2017. via facebook

Spot on - gorgeous weather great team great experience
David Crowle. 18 September 2016 via facebook

Such a great company and made to feel at ease straight away. Very helpful and formative with tailoring a package to suit your needs. Can't wait to go back for my next lesson
Peter Waller. 5 May 2016. via facebook

Had a superb time with Marshall who let me "have a go" brilliant experience and I will be back.

Thank you all and we will try to deliver you a cake next week.
Lisa Marie Caers. 22 March 2016. via facebook

Went on a 30 minute flying experience today with Marshall. He was brilliant totally relaxed and allowed me to fly for majority of flight. Amazing views of padstow,Newquay and Cornish coastline caves. Would recommend x
Jamie Richardson. 31 July 2016. via Facebook

I had an excellent time at Flynqy and the staff were amazing. Unfortunately we had to wait a day or so for the weather to clear but the day arrived and it was a fantastic experience. The staff were excellent and extremely helpful. Highly recommended!
Pepe Culver. 3 August 2016. via Facebook

Had an amazing time today with Joel as our instructor. Such a great experience and would definitely do this again! Highly recommended!!
Sarah Hall. 26 August 2016. via Facebook

We flew to the Scilly Isles and back today. A couple of hours in the town for a wander and refreshments. Lothar, you are brilliant. Thank you so much. See you next year !!
mrshg88.7 May 2017. via Facebook

Have just had a flight experience with John. It was great to see some of Cornwall from the sky. John was friendly and professional from beginning to end. If I wanted to fly again, I would definitely ask to go with John.
Giles U. 21 April 2017. via Facebook

Excellent experience for our Son who is an aviation enthusiast. Leon the instructor was very informative and his passion for supporting pilots learning to fly was evident. We will be back for another flying session. Thank you to the team.
RoseT591. 13 February 2017. via facebook

I took my hubby (who was celebrating his 60th birthday on the day of the flight experience) and son who's in his 30s to Cornwall from Liverpool. From the moment we booked with the lovely smiley reception young lady through to saying goodbye - our experience was just perfect !!!

Mervyn, our pilot made it all look very easy and rather than any of us being worried about going up - we were all excited !!! And that excitement grew during the flight as we flew over some wonderful scenery including the Camel Estuary, Port Isaac and Padstow. And has left us with memories that will last forever. Hubby back into work today but taking with him his certificate that the team presented to him a the end of the flight.
daintyriches. 25 September 2016. via tripadvisor

Ticked another thing off my bucket list thanks to Flynqy, Well two actually as I got to fly over my favorite beach (Perranporth) and I got to fly an aircraft :D I booked this as a treat for myself to tick 'flying an aircraft' off my bucket list, it was an experience I will never forget and made more special as the flight path took us along my beach. The whole booking procedure and communication (and there was a fair bit of that thanks to the Cornish weather LOL) was superb. My Pilot Marshall was lovely and made me feel totally at ease despite never having actually taken the controls of an aircraft before !

Would recommend this place to anyone who wants to have a go at flying even if just for a one-off experience and not to train as a pilot.
Sarahowley.29 August 2015. via tripadvisor

A Birthday present for my husband to 'fly' an aeroplane down to St Michaels Mount and back again. Our Son was also going as a passenger. When we got there Lothar convinced me also to go up. After a briefing of what to do for my husband. Lothar let my husband take control. He told him " as long as I am confident you will not kill us, you can do everything". My husband took controls. Take off, flight and landing. An awesome experience for the passengers, let alone my husband 'piloting' the plane. We were blessed with beautiful weather. We are very appreciative to Lothar for making it such an awesome experience. Thank you so much.
🛫Simon Burnham 🛬‏. Jul 5. via twitter

Just had an epic flight taking my inlaws up at @flynqy
Ross McCartney. 31 March 2016. via facebook

What a great 'flight experience' my son had! He could not believe how much 'hands-on' flying he actually did and could not stop talking about it afterwards. Thank you, Marshall!
Pauline van der Hoff. 23 July 2016. via facebook

I booked my husband a trial flying lesson in July 2016. He had an amazing time, and spoke very highly of his instructor, Joel. The weather was perfect and Joel took photos so my husband has some lovely memories of the day.
Gemma Dearden Tighe. 10 September 2015. via facebook

Absolutely loved it. Fell in love with the cornish coast line. Definitely do this again
Edward Teddy Daniel. 21 March 2016. via facebook

Went with a good friend for his birthday and I loved it marshal was great, not strict at all. Had lots of fun and will be getting my LAPL soon I hope
Jackie Hansen. 4 May 2016. viafacebook

...thank you ALL. Fab time. Zara, special thanks for your patience!
Wayne Broom. 13 October 2016. via facebook

Total joy thanks to everyone ! Very very pleased I did it ! And would do again ! Thanks again